Posts for: February, 2020
By Eldridge and Eldridge Dental Group
February 16, 2020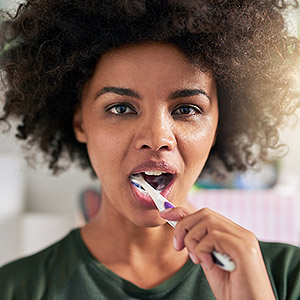 Five minutes a day: That's all it takes to do something that could change your life. It may not seem like a lot of time, but it's one of the most profound things you can do for your well-being.
So, what is this life-changing activity? Daily oral hygiene—good, old-fashioned brushing and flossing, just like your mom made you do. Along with regular dental visits, daily hygiene is crucial to keeping your teeth healthy. And healthy teeth are key to a healthy life.
Part of the magic is "showing up every day." The main driver for tooth decay and periodontal (gum) disease is dental plaque, a thin film of bacteria and food particles that accumulates on teeth. Clearing away this daily buildup with brushing and flossing drastically reduces the likelihood of disease.
The real advantage, though, is in brushing and flossing effectively. Plaque can cling stubbornly to teeth, especially around the gum line and other hard to reach surfaces. What's left behind interacts with saliva to form a hardened, calcified form called calculus (also known as tartar) that could increase your risk for disease. And it can't be removed by brushing and flossing.
You can minimize calculus formation with proper brushing and flossing techniques. When brushing, for instance, use a circular motion and make sure you brush all tooth surfaces, including around the gum line (a thorough job takes about two minutes). And avoid aggressive brushing—you could damage your gums. Be gentle while you brush and let the toothpaste and brush bristles do the heavy lifting.
Don't forget to floss to remove plaque from between teeth your brush can't access. Wrap the ends of about 18 inches of floss thread around the middle finger of each hand. Using a combination of your index fingers and thumbs to maneuver it, work the floss between the teeth and then snug it to the tooth surface. Go up and down the sides of each tooth a few times until you hear a squeak (this only happens with unwaxed floss). Move then to the remaining teeth until you're finished.
Focusing on these techniques will improve your ability to keep daily plaque accumulation low. And that means your teeth and gums have a better chance of staying disease-free and healthy.
If you would like more information on proper oral hygiene, please contact us or schedule an appointment for a consultation. You can also learn more about this topic by reading the Dear Doctor magazine article "Daily Oral Hygiene."
By Eldridge and Eldridge Dental Group
February 06, 2020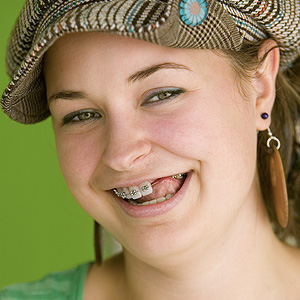 While tooth loss can occur at any age, replacing one in a younger patient requires a different approach than for someone older. It's actually better to hold off on a permanent restoration like a dental implant if the person is still in their teens.
This is because a teenager's jaws won't finish developing until after nineteen or in their early twenties. An implant set in the jawbone before then could end up out of alignment, making it appear out of place — and it also may not function properly. A temporary replacement improves form and function for now and leaves the door open for a permanent solution later.
The two most common choices for teens are a removable partial denture (RPD) or a bonded fixed bridge. RPDs consist of a plastic gum-colored base with an attached prosthetic (false) tooth matching the missing tooth's type, shape and jaw position. Most dentists recommend an acrylic base for teens for its durability (although they should still be careful biting into something hard).
The fixed bridge option is not similar to one used commonly with adult teeth, as the adult version requires permanent alteration of the teeth on either side of the missing tooth to support the bridge. The version for teens, known as a "bonded" or "Maryland bridge," uses tiny tabs of dental material bonded to the back of the false tooth with the extended portion then bonded to the back of the adjacent supporting teeth.
While bonded bridges don't permanently alter healthy teeth, they also can't withstand the same level of biting forces as a traditional bridge used for adults. The big drawback is if the bonding breaks free a new bonded bridge will likely be necessary with additional cost for the replacement.
The bridge option generally costs more than an RPD, but buys the most time and is most comfortable before installing a permanent restoration. Depending on your teen's age and your financial ability, you may find it the most ideal — though not every teen is a good candidate. That will depend on how their bite, teeth-grinding habits or the health of surrounding gums might impact the bridge's stability and durability.
A complete dental exam, then, is the first step toward determining which options are feasible. From there we can discuss the best choice that matches your teen's long-term health, as well as your finances.
If you would like more information on tooth replacement solutions for younger patients, please contact us or schedule an appointment for a consultation.