Posts for: January, 2021
By Eldridge and Eldridge Dental Group
January 11, 2021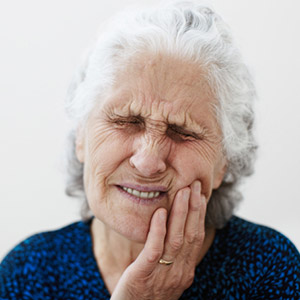 If your dental health isn't in the best of shape, a survey conducted by the American Dental Association (ADA) says the cause is likely one of three common oral health problems. The survey asked around 15,000 people across the country what kinds of problems they had experienced with their teeth and gums, and three in particular topped the list.
Here then are the top three oral health problems according to the ADA, how they could impact your health, and what you should do about them.
Tooth pain. Nearly one-third of respondents, particularly from lower-income households and the 18-34 age range, reported having tooth pain at one time or another. Tooth pain can be an indicator of several health issues including tooth decay, fractured teeth or recessed gums. It's also a sign that you should see a dentist—left untreated, the condition causing the pain could lead to worse problems.
Biting difficulties. Problems biting or chewing came in second on the ADA survey. Difficulties chewing can be caused by a number of things like decayed, fractured or loose teeth, or if your dentures or other dental appliances aren't fitting properly. Chewing dysfunction can make it difficult to eat foods with greater nutritional value than processed foods leading to problems with your health in general.
Dry mouth. This is a chronic condition called xerostomia caused by an ongoing decrease in saliva flow. It's also the most prevalent oral health problem according to the ADA survey, and one that could spell trouble for your teeth and gums in the future. Because saliva fights bacterial infections like gum disease and helps neutralize acid, which can lead to tooth decay, chronic dry mouth increases your risk of dental disease.
If you're currently dealing with one or more of these problems, they don't have to ruin your health. If you haven't already, see your dentist for diagnosis and treatment as soon as possible: Doing so could help alleviate the problem, and prevent even more serious health issues down the road.
If you would like more information on achieving optimum dental health, please contact us or schedule an appointment for a consultation. You can also learn more about this topic by reading the Dear Doctor magazine article "Top 3 Oral Health Problems."
By Eldridge and Eldridge Dental Group
January 01, 2021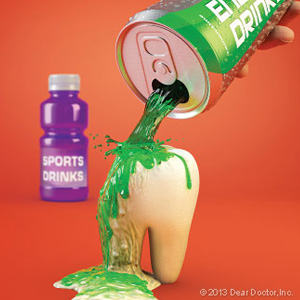 Energy drink makers would have you believe their products are a healthy rehydration choice for athletes while also giving them keener focus and renewed vitality. But before adding them to your sports regimen, you should also consider what effect these beverages could have on your teeth.
Energy drinks are similar in ingredients to sports drinks like Gatorade® and PowerAde®, which mostly consist of water, salts, vitamins, sugars and acids. In addition, energy drinks like Red Bull® and Monster Energy® add caffeine to boost energy.
Besides their sugar content, the main threat from a dental health perspective for both of these drinks is their acidity, which can severely erode tooth enamel. The irreplaceable loss of enamel significantly increases your risk of tooth decay and eventually tooth loss.
The threat of enamel erosion is especially pronounced whenever the mouth's pH level falls below 5.5. The acidity of both sports and energy drinks falls well below this mark. In one experimental study samples of enamel exposed to a number of sports drinks lost an average of 1.5% of mineral content over five days; energy drinks more than doubled that loss at 3.1%.
Given the potential harm these beverages, especially energy drinks, can cause your teeth, you should exercise caution when consuming them. In fact, our best advice is for you to avoid energy drinks altogether, for your overall health as well as your teeth's sake.
Unless you're participating in a physically intense sport, water is your best source for hydration after exertion. Â If you do drink sports beverages, try to limit them to meal times when your saliva is most active to neutralize mouth acid. You can also rinse out your mouth with water after drinking to help further reduce mouth acidity.
As an athlete, you've trained your body to be at its optimum physical peak. Don't let energy or sports drinks take the edge off your health, especially your teeth.
If you would like more information on the effects of sports or energy drinks on dental health, please contact us or schedule an appointment for a consultation. You can also learn more about this topic by reading the Dear Doctor magazine article "Sports and Energy Beverages Bathe Teeth in Erosive Acids."