Posts for tag: osteoporosis
By Eldridge and Eldridge Dental Group
December 30, 2021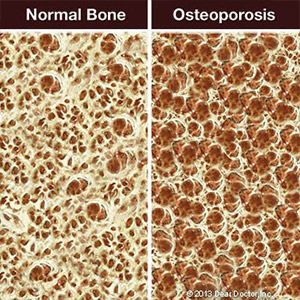 Millions of Americans live with osteoporosis, a degenerative bone disease that can turn a minor fall into a potential bone fracture. Literally meaning "porous bone," osteoporosis causes the natural marrow spaces in bone tissue to progressively grow larger and weaken the remaining bone.
Many osteoporosis patients take medication to slow the disease's process. But due to the dynamic nature of bone, some of these drugs can have unintended consequences—consequences that could affect dental care.
As living tissue, bone is literally "coming and going." Certain cells called osteoblasts continuously produce new bone, while others called osteoclasts remove older tissue to make way for the new. Drugs like bisphosphonates and RANKL inhibitors interrupt this process by destroying some of the osteoclasts.
As a result, more of the older bone remains past its normal lifespan, helping the bone overall to retain strength. But ongoing research is beginning to hint that this may only be a short-term gain. The older, longer lasting bone is more fragile than newer bone, and tends to become more brittle and prone to fracture the longer a patient takes the drug. This tissue can also die but still remain intact, a condition known as osteonecrosis.
The femur (the large upper leg bone) and the jawbone are the bones of the body most susceptible to osteonecrosis. Dentists are most concerned when this happens in the latter: Its occurrence could lead to complications during invasive procedures like oral surgery or implant placement.
Because of this possibility, you should keep your dentist informed regarding any treatments you're undergoing for osteoporosis, especially when planning upcoming dental procedures like oral surgery or implant placement. You might be able to lower your risk by taking a "drug holiday," coming off of certain medications for about three months before your dental work.
As always, you shouldn't stop medication without your doctor's guidance. But research has shown drug holidays of short duration won't worsen your osteoporosis. If you're already showing signs of osteonecrosis in the jaw, a short absence from your prescription along with antiseptic mouthrinses and heightened oral hygiene could help reverse it.
Fortunately, the risk for dental complications related to osteoporosis medication remains low. And, by working closely with both your dentist and your physician, you can ensure it stays that way.
If you would like more information on osteoporosis and your dental care, please contact us or schedule an appointment for a consultation. You can also learn more about this topic by reading the Dear Doctor magazine article "Osteoporosis Drugs & Dental Treatment."
By Eldridge and Eldridge Dental Group
December 28, 2019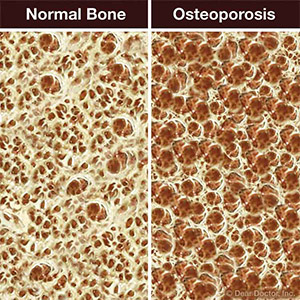 Osteoporosis is a major health condition affecting millions of people, mostly women over 50. The disease weakens bone strength to the point that a minor fall or even coughing can result in broken bones. And, in an effort to treat it, some patients might find themselves at higher risk of complications during invasive dental procedures.
Over the years a number of drugs have been used to slow the disease's progression and help the bone resist fracturing. Two of the most common kinds are bisphosphonates (Fosamax™) and RANKL inhibitors (Prolia™). They work by eliminating certain bone cells called osteoclasts, which normally break down and eliminate older bone cells to make way for newer cells created by osteoblasts.
By reducing the osteoclast cells, older bone cells live longer, which can reduce the weakening of the bone short-term. But these older cells, which normally wouldn't survive as long, tend to become brittle and fragile after a few years of taking these drugs.
This may even cause the bone itself to begin dying, a relatively rare condition called osteonecrosis. Besides the femur in the leg, the bone most susceptible to osteonecrosis is the jawbone. This could create complications during oral procedures like jaw surgery or tooth extractions.
For this reason, doctors recommend reevaluating the need for these types of medications after 3-5 years. Dentists further recommend, in conjunction with the physician treating osteoporosis, that a patient take a "drug holiday" from either of these two medications for several months before and after any planned oral surgery or invasive dental procedure.
If you have osteoporosis, you may also want to consider alternatives to bisphosphonates and RANKL inhibitors. New drugs like raloxifene (which may also decrease the risk of breast cancer) and teriparatide work differently than the two more common drugs and may avoid their side effects. Taking supplements of Vitamin D and calcium may also improve bone health. If your physician still recommends bisphosphonates, you might discuss newer versions of the drugs that pose less risk of osteonecrosis.
Managing osteoporosis is often a balancing act between alleviating symptoms of the disease and protecting other aspects of your health. Finding that balance may help you avoid future problems, especially to your dental health.
If you would like more information on osteoporosis and dental care, please contact us or schedule an appointment for a consultation. You can also learn more about this topic by reading the Dear Doctor magazine article "Osteoporosis Drugs & Dental Treatment."